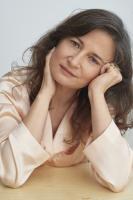 INTERVIEW: Passionate Danish film director Pernille Fischer Christensen who made an overwhelming movie on Astrid Lindgren's young years of womanhood is one of a kind.

Elke Eich
Berlin (Weltexpresso): "Who would have been there for me as a role model if not Pippi?...." Pernille Fischer Christensen phrases a leading question in our interview. Of course "Cinderella!" was never an option for any of us females who grew up with and love the child and youth stories by Astrid Lindgren as well as all the amazing characters she gave birth to.
"Becoming Astrid" about those years of the struggling but yet strong-minded young woman nurtures empathy for female and children rights. Astrid Lindgren was an activist in this field, one to be remembered for her honourable motives.
Photo: Pernille Fischer Christensen © DCM
Bravery and courage since Lindgren's very early womanhood years
To Danish director Pernille Fischer Christensen, her film "About Astrid" (deutscher Titel: "Astrid") is so much more than a biopic to tell the story about what happened to the young woman who was to become THE most popular Swedish literature icon who gained world fame.
This film about Astrid Lindgren with fantastic Alba August starring as the main character is, according to the director her personal "offer to think about responsibility, bravery, and courage, freedom, and women's stories!" in more general terms.
Astrid Anna Emilia Ericsson, born in November 1907 in Vimmerby as the 2nd of four children of a religious farmer family, had to go through difficult times as a teenager and young woman. Her strong urge to later express her specific agenda of unconventional messages in literature for children and youth seems most definitely rooted deeply in this period of her life.

Early pregnancy and pressure to hide away
Being an intern, Astrid got pregnant from her boss Reinhold Blomberg, the newspaper editor in Vimmerby, and left to live in Stockholm, in order to avoid shame and conflict.
On one hand, one could argue that young Astrid was somewhat lucky after all, because she was not "dropped" by her boyfriend, but she nevertheless was trapped in the harshness of social conventions. The typical pressure of that time came from her family (in the film in particular by her mother): The proposition was to make her shame "invisible" by putting her son for adoption.
An additional, very specific pressure occurred due to the individual circumstances that were related to her boyfriend's personal life and their age difference: He was 30 years older and wanted her to hide their child long enough in order to protect his reputation and prevent a prison sentence against him for "seduction of a minor" or even a punishment against both of them for "sexual immorality". A serious threat fired by Blomberg's 2nd wife whom he was already separated from, but who seaked revenge.

Liberal Denmark: a harbour for unmarried women to secretely give birth
Choosing to give anonymously birth to her child in more liberal Denmark - was one, if not THE only one suitable solution during this time of history for a single Scandinavian mother who wanted to stay in her country. Astrid's initial plan: To leave her son Lars - called "Lasse" - in Denmark with a foster mother and to build and maintain a good relationship with him - despite the great distance of 600 km and the low frequency of visits. As soon as possible she wanted to bring him to Sweden - once her relationship with her boyfriend could be legalized after his divorce.
However, things developed in a very different way. The direction that Pernille Fischer Christensen points out Astrid's clear personal compass and independence: She shows her as a young woman who falls out of love with a man who after all disappointed her!
In reality, it took three years until Astrid could integrate her son - still being a single mother - in her life as a secretary in Stockholm.

Personal trauma leading to great literature to strengthen children
"Becoming Astrid" also treats the unavoidable failure of bonding between mother and son in competition with the continuity of closeness between the foster mother and Lars. This bonding failure is narrated as the main motive for Astrid's consideration, to leave Lars by any chance with the warmhearted Danish substitute mom (Tryne Dyrholm) for good. In Fischer Christensen's dramatization, the door for Astrid's and Lasse's relationship in union opens again when the foster mother gets seriously sick and demands her to take over.
Tortured by guilt feelings and possibly also shame, it was only in her very late years, at the age of 70, that Astrid Lindgren commented on these events in her life - not out of free will but when forced to do so. All her stories of children and youth literature (160 Million sold books - as of February 2019 - translated into 106 languages) and all these strong characters that Astrid Lindgren has created against many conventional norms, seen in the light of her own trauma reveal larger dimensions of relevance as tools to achieve catharsis. In a way, the brilliant author created strong role models of hope in survivor mode on the hidden canvas of her personal sadness and conflicts. Not to mention the life long struggles of her first-born Lars. Her main message to her readership: "No matter what happens to you in life: Never give up! You can be strong and you can fight for what you want, and survive! Even as a child who seems to have little choices."

Actress Alba August's learnings about the healing effects of their film
Complementary to this interview with Pernille Fischer Christensen, we suggest reading our conversation with Alba August. She mentioned encounters with descendants of women who went through trauma, that was comparable to the one Astrid Lindgren and her son encountered - or even much worse. The many people who felt/feel the need to share their family trauma after movie screenings of "Becoming Astrid" refer to a neuralgic nerve that keeps hurting generations later.
Numerous testimonies are to be shared about troubling female destinies. Seeing the film motivates to speak up on behalf of them: those, who never lost their sadness, who remained seriously depressed, committed suicide or ended as devastated beings in psychiatric clinics - whether due to separations from their children that were forced on them, or whether due to isolation and social rejection as outsiders.

Astrid Lindgren's role as a supporter of children throughout the world
Throughout the film, of and on, there are fictional scenes injected with the old Astrid Lindgren (played by Maria Fahl Vikander, Alicia Vikanders mother), who sits at her desk reading letters from children addressed to her in a spirit of gratitude. Also during some scenes with the young Astrid, children voices from the off tell about her effect on their lives and trigger deep emotions. The biggest reward for the writer icon must have been the awareness that she could indeed give something of enormous value to all these children and juveniles. Something for them to hold on to.

A movie "as true to the facts as it is possible when you do fiction!"
Astrid Anna Emilia Ericsson towards the final part of the film gets together with her husband to be: Sture Lindgren... He gives her support and remains interested in her despite her child. But the elementary steps to introduce Lars publically in her home town Vimmerby and to integrate him as a fully respected member of´ her religious family, she takes alone - without Sture at her side.
We don't know whether Astrid really took the train to Vimmerby for the first family reunion after several years with Lars alone. Director Pernille Fischer Christensen, I assume, had good reasons to bring, towards the end, an Astrid-Lindgren-type visual message to the attention of the audience. As if she wanted to stress one important point with these scenes and say: Women, you can be strong and keep your heads elevated, you do not have to hide behind a man. Actually, you do not need to have a man by your side to stand up for your rights and for what you want!

Double bind situation after Lindgren's marriage
In real life, for one year Lars stayed with his grandparents and got finally united with his mother for good after she got married with Sture Lindgren. Unfortunately, Astrid Lindgren's prince in shining armor, good looking Sture Lindgren, in real life did not bring pure joy to her. He was a womanizer and an alcoholic who even died from alcoholism when the author was 45. Despite the fact that Astrid Lindgren and her son Lars were very close to each other, the wounds of their long time hidden past, after all, kept overshadowing their relationship. At the age of 60, Lars Lindgren died, his mother followed in 2012.
THE INTERVIEW
Pernille, thanks for taking the time to talk with me about your film "Astrid" (with the original title "Becoming Astrid"). What did this intense project, to do a film on the early days of Astrid Lindgren, mean to you?


Pernille Fischer Christensen: When people ask me: "Who is the greatest artist to you, the one who influenced you the most?", they expect that for me it would be Ingmar Bergman or Woody Allen or some other great director. This, because I am doing films for more than half of my life.
But I think the greatest artist in my life has been Astrid Lindgren. She was really my first encounter with art and my first encounter with character shaping stories... Also, my mother read her stories to me, and I grew up partly in Småland in Sweden. Although I am Danish, I was in and out of Sweden a lot.
How comes that you were in and out of Sweden a lot?

My father was a doctor and he was working in the hospitals, in the south of Sweden in the countryside. And during summer time we were living in a hut near lake Bolman in Småland ́. That was a very primitive life at the beginning, without electricity and without water in the house. We did not have iPads or television, but we had books.
My mother also worked with children and was very into discussing things with children. A lot of deep discussions about right or wrong, about gender, about death, about courage and responsibility came out of Astrid Lindgren's books. She has been really important to me.
Working on the film has been a bit like being again in the best part of my childhood for six years. (laughs) – During that time I was "staying" in her books. That means, actually I was working, but at the same time I was reading children's books. (laughs) You understand what I mean? So, it actually has been a very beautiful period!
The film took 6 years of your life, including the writing of the script!?

Well, I was also doing other films during that time. But preparing the film on Astrid Lindgren took a whole lot of research. You just don't do something about a woman that you admire so much and just write things down without being sure. It has to be real! It has to be good and it has to be as perfect as possible. And you have to feel being on eye level with her. That it is good enough
It all sounds like you had a huge responsibility on your shoulders.

It's an enormous responsibility! - With any biopic there comes an enormous responsibility! You don't just invent anything! You really try to work out every frame. And with every frame, questions pop up, like: "Can we say this, or can we not say this? Why do we say this? How true is it to the facts?"
When people ask me about how true something is to the facts, I often say: "This film is as true to the facts as it is possible when you do fiction!" And it is! Of course, there is also a "building thing" when you do biopics.
You don't know all the time what people have exactly said to each other. But you have to find out as much as possible. Sometimes you don't know how people met, but you know that they have met. In that case you have to invent where they've met. Sometimes you have time periods of 5 years that you have to squeeze together. But for every frame of the movie we have to decide what we can say or what we cannot say.
I wished that more directors would share your responsible and respectful approach when it comes to portraying real people in a film! What to you is Astrid Lindgren's core that made her this unique person?

What makes her one of the world's greatest children books' authors: She could actually write about very complicated things in a very straight forward way that is not complicated. She could write about death, about responsibility, about courage and also about love: And she could write about all these things in a way that even a child understands it. But at the same time, she is somehow on eye level with German philosophers and raises questions that she could discuss with them.
That's indeed quite unique!

Also, technically Astrid Lindgren was a really good storyteller. Her writing is not about themes only. She wrote really entertaining stories, and she wrote characters that moved you and that you could also relate to - as a child and as a grown-up. I wanted to be her characters. I wanted to be Jonathan (Remark: "The Brothers Lionheart" / Anm.: aus "Die Brüder Löwenherz"), to be Pippi, and I wanted to be Lisa (Remark: "The Children from Bullerby" / Anm.: aus "Wir Kinder aus Bullerbü"). I really entered them.

There is also a very strong and quite simple message in her books, the same one as in our story about her: It is about taking responsibility for your life and fighting for it!
The children in her books have a very strong sense of what is right or wrong, and they go out and fight for what they think is right. They dare to do it – against their families sometimes, like in "Ronja Räubertochter" or Lotta (Anm: in "Lotta kann fast Alles") when she is the one who gets the Christmas tree for the family... Everybody gives up, but not the child!
Also, Emil's character (Remark: "Emil from Lönneberga" / in Deutsch: "Michel aus Lönneberga") is a fighter. He is involved in this fight against shame. (laughs) And they think they can shame him out by putting him alone in a little barn. But actually, he has a good time there and even becomes an artist there. (laughs)
You know, I also grew up with Pippi, had lots of freckles and carrot red hair myself and always wanted to be physically strong - even measured myself with the boys in arm wrestling. The idea of being a weak girl that could easily be dominated by boys was something I completely rejected... But actually, until today, I never thought that this particular stance must have developed under the influence and with the support of characters like Pippi Longstocking (deutsch: Pippi Langstrumpf).

These role models are so extremely important! My life would have been different if Pippi had not been there. Who else would I have had? Who would have been there for me as a role model if not Pippi? Cinderella? That would have been the opposite thing.
Pippi is not just a feminist but also a humanistic icon Because she's a freedom icon, she also is a humanistic icon. She is about justice, about daring to think out of the box, about freedom and all these things! It's far beyond just feminist issues. But yes, for girls, I think, such a role model is particularly important.
You have chosen Alba August to portray the main character. Was it easy to find her and decide on her?

Once we had found her, it was easy! (laughs) But it took time. What happened is that we wrote a script in which Astrid is present in all the scenes – the film covers her from age 16 until she is 20. And at this age, it would have been an actress who is an amateur because you would not find one who is educated. So, we made a call and many girls came from all over Sweden. And after that, I got depression because I realized that I have written something that's emotionally very difficult and that the actress would have to do so many different things on many levels of a human being!
To me, that meant: If we don't find HER, the ONE who is able to manage this, I will not do the film! This also had to do with what we talked about earlier: The responsibility! You just don't want to take someone who would not have the depth that I think she should have.

So, how did you finally manage to find Alba then?

We started to look in theatre schools - and: IN CAME ALBA! She just blew me away!
I imagined Astrid Lindgren as an intelligent woman, intellectually intelligent as well as emotionally intelligent. She was a tiny woman, maybe not the prettiest girl in the class, not a classical or a Cinderella beauty - a special character. And Alba just had all of that.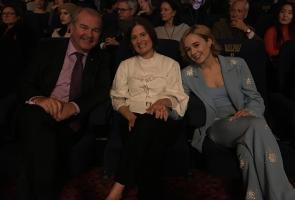 Sometimes you meet actors and you think: "This is for life!" - I also had this experience with Trine Dyrholm. We've met when we were in our twenties: I was in film school and she just had left theatre school, and we kept on doing things together from then until today. I think with Alba it will be the same.
Berlin Premiere - Nov 2018: Per Törrenson, the Swedish Ambassador to Germany, Pernille Fischer Christiansen and Alba August / Photo: © Elke P. Eich - Media & Communication
Your film about Astrid Lindgren is made for us adults. – It seems, to get our beloved icon introduced to us on a deeper, emotional level. What did you have in mind when choosing to focus on this short period of her life when she had to fight and make such a bitter experience? To show this in depth was your decision.

Well, she said herself about this period in her life that "If this with Lasse would not have happened, I might have been an author, but I might not have been as great as an author!"
Astrid Lindgren herself knew that this was something that shaped her. How exactly it shaped her, I don't know. There are many answers to that question. And the whole film is about how this might have shaped her! We tried not to go about her life in a mathematical way, as in "2 + 2 equals 4!" When you look at a life of somebody, Two and Two never adds up to Four! One of the problems with biopics is that they often tend to round up everything – trying to bring a logical flow in it – pretending that things follow one another in a completely logical order. ("This is because of that... and therefore then....") And that's bad!
And what was your more adequate approach for this biopic?

When you start working with someone's life, it's always chaos. Then you start writing, and drama is "making order". Because you cannot write a drama without order!
You find the theme which is also very much about what you find is interesting! That's why it is always an interpretation of her life. I don't know if this is the truth. It's an interpretation and it's an offer. I offer a thought and I offer to think about her. But in this movie, I also offer to think about responsibility, bravery and courage, freedom and women's stories.
Your film goes far beyond the interest in the roots of a famous female author!

This is also a very strong female story, which is not only about Astrid Lindgren. So many women were coming from Sweden to Denmark to give birth to children, and they never saw their children again. There were lots of stories about women's lives that have not been told - for obvious reasons.
Shame was one of those reasons, why their stories were not told. Also, because we were not educated earlier, and we did not have the freedom to write and all of that. And it still continues to be a fight.
Only very few films in the world are made by women. I don't know how high the percentage of female leading characters in films is, but it's not a lot. So, our film also offers a story about women's history. This is so important!
It's just been for round about 100 years that women can vote in some parts of the world. Feminism is still important nowadays, as you said yourself.

My youngest daughter is nine years old, and I try to tell her stories about women's history. I tell her about the first women that have been educated, about when women were allowed to vote. I want her to learn about all of that and understand why we are where we are and why it is still so important to fight for these things. This strong message about female history is also a major part of the film.
What to your opinion are nowadays the most relevant, the most important issues to fight for?

What I am particularly interested in nowadays is to look into the use of language - how we as women talk about ourselves and how others talk about us. Many ideas about women - maybe not being as clever as men and so on - are still out there expressed in the language. That you can still be talked down to and looked down to as a woman.
For example: Why, for the last 20 years, do I always have to be referred to specifically as a "female director"?Yesterday I had an interview with an American magazine and I was asked the question, how I loook at myself as a female director. And I answered back: "Why don't you ask me how I look at myself as a director?"
I think those levels of injustices become more and more sophisticated, and therefore it's getting more difficult to point them out. When it's not anymore about fighting for the basic right to vote and other very obvious things. It is not so clear when it's about fighting against annoying things that are more subtle. Things that people are not even aware of.
You mentioned your daughter. How can we imagine your life, in Denmark?

I live in Copenhague. I have a family. I am a Hausfrau. And I also love it! I have two children – a daughter who is nine and a son who is 17. And I like cooking. I earn my own money to buy my own things but I also like being a Hausfrau! (laughs)

Fotos:
Pernille Fischer Christensen © DCM

Info:
The DVD and BluRay are available starting May, 24, 2019.

"BECOMING ASTRID" (International Title) - "UNAR ASTRID" (Swedish title) - "ASTRID" (Deutscher Titel)
Directed by Pernille Fischer Christensen
Writing Credits Pernille Fischer Christensen, Kim Fupz Aakeson
Cinematography Erik Molberg Hansen

CAST (in credits order)
Alba August ... Astrid
Trine Dyrholm ... Maria Bonnevie
Henrik Rafaelsen ... Magnus Krepper
Björn Gustafsson ... Sture
Marius Damslev ... Lasse 3 year
Willy Ramnek Petri ... Gunnar
Liv LeMoyne ... Saga
Sofia Karemyr ... Madicken
Mira Mitchell ... Berta
Maria Fahl-Vikander ... Astrid 1987